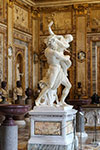 Borghese Gallery: Skip the Line
Price from $ 35.30
Skip the line to the famed Borghese Gallery in Rome! Tickets often sell out up to a month in advance - book yours today to see this exquisite collection.

Highlights:
- Secure timed tickets to this popular attraction
- Skip the line to the Borghese Gallery
- Admire the amazing works of art

Skip the line to the World-Renowned Borghese Gallery
The art collection of the wealthy, noble Borghese family soon became too big for a single home. It moved into the Galleria Borghese - a separate building in the famous Villa Borghese park. In 1901, the collection passed into the hands of the Italian government and ever since, tourists have travelled from all over the world to see this beautiful museum! Timed tickets regularly sell out in advance so book yours from home!
This small museum punches well above its weight, thanks to the lush surroundings (pink marble walls, frescoed ceilings, etc.) and its many famous masterpieces. Plus, thanks to the timed entrance policy, it gets busy but never crowded.
Highlights include Bernini's sculpture of David which captures the biblical hero coiled in a state of readiness, and The Rape of Proserpina - done when Bernini was just 23. Other highlights include Caravaggio's Boy with Fruit Basket and Raphael's extraordinary Deposition of Christ and Lady with a Unicorn.
How do I get my tickets?
Soon after your booking is complete your e-ticket will be sent directly to your email. Smartphone tickets are also accepted.
How should I plan my visit?
Choose a time slot that suits you, e.g. 10-12 AM, 12-2 PM etc. Please note that you'll get an exact time within this time slot, which will be clearly stated on your e-ticket.

Please be there 15 minutes before your reserved timeslot.
What's included?
Timed entrance to the Borghese Gallery

What ticket types are available?
Adult: 18+
Child: 0-17
Borghese Gallery: Skip the Line Info
Borghese Gallery: Skip the Line
Piazzale Scipione Borghese 5
00197 Rome
Info
Borghese Gallery: Skip the Line
Tuesday - Sunday: 8:30 AM - 7:30 PM

Closed on Mondays
Directions
Directions
You can take either bus 116 and get off at Galleria Borghese, or bus 910 (from Termini Station) and get off at Pinciana/Museo Borghese.



View map