Vatican Morning Tour
Price from $ 62.80
Learn everything you want to know about Vatican City and skip the lines to save time! Let our highly ranked guides accompany you on a comprehensive Vatican Morning Tour and spend the extra time exploring on your own afterward.

Highlights:
- Enjoy a 2-hour guided tour of Vatican City
- Explore the world-renowned Vatican Museums
- Learn about the Vatican from your engaging guide
- Experience the beauty of The Sistine Chapel
- Visit St. Peter's Basilica on your own after your tour

Guided Tour of the Vatican
The Vatican Morning Tour covers all the major highlights of the Vatican Museums' vast art collections.

Your English-speaking guide will show you around the enormous museum and make sure you get the most out of your time in Vatican City. Our guides on our Vatican tours are extremely well-liked and receive many positive reviews and comments from our guests.

Among other things, you'll get to see and hear more about the Rooms of Raphael, The Belvedere Courtyard and, of course, The Sistine Chapel.

After leaving The Sistine Chapel, which is the last stop of the tour, you will have direct access to St. Peter's Basilica where you can browse around this magnificent church on your own for as long as you like!

We also offer the same identical tour in the afternoon - Vatican Afternoon Tour. If you would also like a guided tour of the Vatacombs and St. Peter's Basilica, then try our Vatican Museum, Vatacombs and St. Peter's Basilica tour instead!
The tour is operated in English.
How do I get my tickets?
Shortly after your booking is complete your e-ticket is sent directly to your email address entered at time of booking, just print it out and bring it on your tour.
Where does the tour start?
The tour starts by the When In Rome Tours' office. The address will be on your e-ticket. Please plan on arriving 30 minutes before the tour starts.
Where does the tour end?
The tour ends by St. Peter's Basilica.
How long is the tour?
The tour runs approx. 2 hours.
Is there a dress code?
Yes, there is a strict dress code at the Vatican. Shoulders and knees must be covered for both women and men. Sandals are considered appropriate.
Are there child rates?
Yes, child rates are available for children between ages 6-17. Children under age 6 are free when accompanied by a paying adult.
Important information:
- You will skip all official queues, and they can be very long, up to several hours. However on certain days like bank holidays, weekends and religious holidays there still may be some lines which are unavoidable. Even so, these lines will be far shorter than the public ones.
- Due to the popularity of the attractions and the number of visitors on the sites, your tour may run longer than anticipated. We regret any inconvenience this may cause you.
- Cancellations can happen at very short notice. In this case, we will contact you and offer you alternative tour dates or, if preferred, offer a full refund.
- Due to security reasons, we strongly recommend that you do not bring any large bags or packages.
- This tour is conducted as a walking tour, as no vehicles are allowed inside the Vatican, so please wear appropriate footwear.
Fantastic
5.0
Result from 1 customer reviews
Visit to the Vatican
This tour made what could've been a LONG wait to see the museum painless! The guide was very passionate and knowledge about the masterpieces. We didn't have to wait in line - which was amazing . I have never seem such a crowd of people. I would highly recommend booking this tour if you want to see the Sistine Chapel, etc. It's worth every penny.
Vatican Morning Tour Info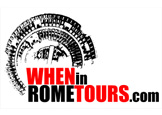 Vatican Morning Tour
(Map, look under "directions")
When In Rome Tours
Via Sebastiano Veniero 21
000192 Roma, Italy

Info
Vatican Morning Tour
Please check the calendar for date and time.
Directions
Directions
Ottaviano Station. From here it is only a 5 minute walk!



View map