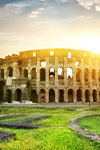 Colosseum & Roman Forum: Audio Guide
Price from $ 36.90
Swap your e-ticket at the Colosseum Ticket Office for a handy audio guide and a timed entrance ticket to the Colosseum, the 2,000-year-old icon of Ancient Rome. You can explore Roman Forum and Palatine Hill later that day or the next one; this ticket is valid for two days.

Highlights:
- Skip the lines with a timed entrance ticket to the Colosseum
- Travel back in time to Ancient Rome
- Learn all there is to know with a handy audio guide
- Explore the Roman Forum & Palatine Hill afterwards

Colosseum, Roman Forum & Palatine Hill
Take your time exploring the Colosseum, one of Ancient Rome's most treasured archaeological sites. Then see the Roman Forum (the social and political center of one of the greatest empires the world has ever known) and the Palatine Hill (where Romulus founded the Eternal City). One ticket, three great Roman sites.
This three-in-one ticket is the best way to get into the spirit of the mighty Roman Empire. Swap your e-ticket for an audio guide and a printed ticket complete with timeslot at the official Colosseum Ticket Office. Now you are ready to take the Priority Entrance into the Colosseum.

After marveling at the ancient grounds where man and beast once fought to the death, you can visit two more iconic sites: the Roman Forum and the Palatine Hill, or wait until the next day.
How do I get my tickets?
Shortly after your booking is complete your e-ticket is sent directly to your email. Smartphone tickets are accepted.

How does it work?
Show your e-ticket at the Colosseum Ticket Office and get a handy audio guide and a timed entrance ticket to the Colosseum.

How long is my ticket valid?
Your ticket to Colosseum is valid on the date you choose. Your ticket for Roman Forum and Palatine Hill is valid the same date or the next.
What's included?
- Priority entrance to Colosseum
- Entrance to the Roman Forum and Palatine Hill
- Audio guide to Colosseum
- Downloadable map of the Colosseum
What's excluded?
- Audio guide for the Roman Forum and Palatine Hill
- Access to the Colosseum's 4th and 5th floors
What ticket types are available?
Adult (18+)
Child (4-17)
Infant (0-3): Free of charge

Important information:
- The Colosseum can host a maximum of 3,000 people at the same time. This means that you might have to wait for some time, even if you booked a timeslot.
Colosseum & Roman Forum: Audio Guide Info
Colosseum & Roman Forum: Audio Guide
Go to 'Cassa 4 or 5' (for people with reservations) located in the Colosseum square, just across from the Individuals Entrance Gate of the Colosseum.
Colosseum 1
Piazza del Colosseo
00184 Rome
Info
Colosseum & Roman Forum: Audio Guide
Daily 8:30 AM - 4:30 PM.
Directions
Directions
The closest metro stop is Colosseo.



View map