Vatican Morning Tour
Price from $ 64.90
The Vatican Morning Tour is the best way to see all that Vatican City has to offer whilst avoiding the many and long queues, get priority access and have an English speaking, licensed tour guide at your disposal.

The Vatican Morning Tour will cover the Rooms of Raphael , The Belvedere Courtyard and of course The Sistine Chapel. Here you will discover the full history of the Sistine Chapel and hear many stories about the famous painter Michelangelo.

After leaving the Sistine Chapel, you will have direct access to St. Peter's Basilica where you can browse around this magnificent church, for as long as you like!

This tour is identical to the first part of the tour "Vatican Museum, Vatacombs and St. Peters Basilica". If you also like to have a guided tour for the Vatacombs and St Peters Basilica, please book the tour "Vatican Museum, Vatacombs and St. Peters Basilica" instead!


Important Information:
- Tour Duration: Approximately 2½ hours
- Tour is in English
- Children under 7 years old are free. All others pay normal price!
- Entrance tickets to Vatican and Vatican Museum are INCLUDED in your ticket (this you normally pay directly at the Vatican and is equivalent to min. EUR 20 per person.
- There are NO hidden or extra Costs
- You will skip all official/public queues, and they can be VERY long, up to several hours in some cases. However on certain days like bank holidays, weekends and religious holidays there might be some queues. This cannot be avoided, but these queues will be far shorter than the public ones!
- The Tour is available Monday to Saturday, except on religious holidays.
- The Tour starts at 09.30am from April to October and 10 am from November to March.
- Cancellations can happen at very short notice. In these cases we will contact you and offer you alternative tour dates or will refund you!
- There is a strict dress code at the Vatican. Shoulders and knees must be covered for both women and men. Sandals are considered appropriate.
- Due to security and security checks, we strongly recommend that you do not bring any large bags or packages!
- This tour is conducted as a walking tour, as no vehicles are allowed inside the Vatican, so please wear appropriate footwear!
- This tour ends at The Vatican City!
Vatican Morning Tour Info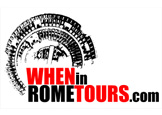 Vatican Morning Tour
When In Rome Tours
Via Sebastiano Veniero 21
000192 Roma, Italy
(Map, look under "directions")
Info
Vatican Morning Tour
April to October at 09.30am. November to March at 10.am. Please be there 15 minutes. Before the tour starts. Closed Sundays and on other religious holidays!
Directions
Directions
Ottaviano Station. From here it is only a 5 minute walk!



View map