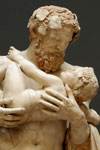 Early Bird Vatican Tour
Price from $ 142.70
Early Bird Vatican Tour is for visitors in Rome who like to see more of the Vatican Museums for less. Tickets to The Vatican early morning tours can be booked here!

This is the tour you have been waiting for! Not only will you be able to spend time in the Chiaramonti Museum, Braccio Nuovo Wing and Pinacoteca, you'll find yourself inside the Sistine Chapel long before the majority of other tourists and tour groups invade your space. You will be proffered a once in a lifetime opportunity to admire the finest paintings ever created, without distractions of any kind. Overcrowding in the sacrosanct Sistine Chapel besets the vast majority of Vatican tours, and this is the only way to avoid it!

After the visits at the Sistine Chapel, you will have access to St. Peter's Basilica at the early morning. Again at this early hours, the basilica is less crowded, and the best time to visit we think!

Our extended early bird Vatican tour is ideal for visitors who want to spend an entire morning inside the Vatican on a small group tour.

THIS TOUR REQUIRES A MINIMUM OF 2 PERSONS PER BOOKING!

Important Information:
- Tour Duration: Approximately 3 hours
- Tour is in English
- Children under 7 years old are free. All others pay normal price!
- Entrance tickets to Vatican and Vatican Museum are INCLUDED in your ticket (this you normally pay directly at the Vatican and is equivalent to min. EUR 20 per person.
- There are NO hidden or extra Costs
- You will skip all official/public queues, and they can be VERY long, up to several hours in some cases. However on certain days like bank holidays, weekends and religious holidays there might be some queues. This cannot be avoided, but these queues will be far shorter than the public ones!
- The Tour is available Monday, Friday and Saturday at 07:45AM from April to October and 08:00AM from March to November, except on religious holidays.
- Cancellations can happen at very short notice. In these cases we will contact you and offer you alternative tour dates or will refund you!
- There is a strict dress code at the Vatican. Shoulders and knees must be covered for both women and men. Sandals are considered appropriate.
- Due to security and security checks, we strongly recommend that you do not bring any large bags or packages!
- This tour is conducted as a walking tour, as no vehicles are allowed inside the Vatican, so please wear appropriate footwear!
- This tour ends at The Vatican City!
Early Bird Vatican Tour Info
Early Bird Vatican Tour
MEETING POINT:
When In Rome Tours
Via Sebastiano Veniero 21
000192 Roma, Italy
(Map, look under "directions")
Info
Early Bird Vatican Tour
Mon., Fri. & Sat. at 07:45AM from April to October and 08:00AM from March to November
Directions
Directions
Ottaviano Station. From here it is only a 5 minute walk!



View map